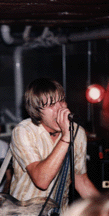 ---
Free MP3 downloads
"Pinky Finger Wedding Band"
>> MP3 from the album ...The Pity Party
"Maybe Separation Makes Us Stronger"
>> MP3 from the album Spider West Myshkin And A City Bus Reissue + 2
"Not Everybody Loves Your Doggie Like You Do"
>> MP3 from the album A Pre-existing Condition
---
---
Other releases on Ghostmeat
1990-1996- Everything by Sunbrain
1998- "The Ocean Is The Winter" by Dondero's band the Flatwheelers appears on the Yearbook Compilation CD
David Dondero
David Dondero is an American singer/songwriter. In 2006, NPR's All Songs Considered named Dondero one of the "best living songwriters" alongside Bob Dylan, Paul McCartney and Tom Waits. Dondero's career began in the mid-1990's with the release of four records with Clemson, SC-based punk band Sunbrain- three on Grass Records and one on Ghostmeat Records. In 1997, Dondero joined This Bike Is A Pipe Bomb as their drummer. He left in 1998 to focus on solo material which was more folk in nature. He has since released eight albums - two on Ghostmeat (see below), three on Future Farmer Records and three on Conor Oberst's Team Love imprint. His ninth album, titled A Pre-existing Condition, will be released February 22, 2011 on Ghosmeat. Dondero is perpetually on tour and has shared the stage with such acts as Crooked Fingers, Jolie Holland, Against Me!, The Mountain Goats, Preston School Of Industry, Bright Eyes, Tilly and the Wall, Spoon and Willy Mason.
A Pre-existing Condition was recorded just outside Athens, GA with Rob Keller (Six String Drag) on upright bass and backing vocals, William Tonks (Bloodkin) on dobro and guitar and Russ Hallauer (Sunbrain) on mandolin and tenor banjo. The album distinguishes itself from other recent Dondero releases with exclusive use of acoustic instruments and extensive use of vocal harmony. Clay Leverett (Now It's Overhead) and Ken Will Morton also make guest appearances with backing vocals and harmonica respectively. The 13-track album features original compositions side by side with Dondero's interpretations of songs by artists such as Little Feat, Elizabeth Cotten, Charlie Pride, Neil Young, Woody Guthrie, Doug Sahm, Jawbreaker, Bob Dylan and Jimmie Rodgers.
Press & Accolades for David Dondero:
"This is the sound of a man on fire. Smart, funny and honestly out of his mind; but he comes back long enough to sing about it. One of the best singer/songwriters I've ever heard."
- Bob Boilen, NPR
"Dondero is this generation's Townes Van Zandt, a peripatetic tumbleweed casting across the country's highways and dirt roads searching for truth and love. His reedy tenor shuffles through clever verbal forays, over raga-muffin folk, brightened by Dondero's road-wizened stoicism"
- Houston Chronicle
"He has a terrific ear and eye for simple detail, for spinning songs out of the mundane just as deftly as standards like love and loss."
- David Bevan, Pitchfork
"His songs capture places in detail, but also the feeling that life can be about grabbing a hold of the wind (or of a song, as he sometimes phrases it) and seeing where it takes you."
- Dave Headon, Pop Matters
"Dondero is a brilliant storyteller and poet. His searching melodies and distinctive voice are heartbreakingly beautiful and uplifting."
- Robin Hilton, NPR
"Dondero writes folk songs that speak to people who don't think they like folk songs."
- Justin Berton, East Bay Express
"Ever since going solo and releasing his 1999 album ... The Pity Party, David has shown a remarkable ability to capture the heart of America in his songs, which he does with his rambling, poetic narratives, like a modern day Jack Kerouac, and in turn captures the heart of humankind."
- No Depression
---
David Dondero ...The Pity Party

Released in 1999

...The Pity Party is the debut album from former Sunbrain vocalist David Dondero. It features incredible introspective songwriting that is serious and playful simultaneously. The album was produced by Andy LeMaster (Drip, Now It's Overhead, Bright Eyes) who twists Dondero's folk-rock into beautiful, strange shapes.

1. I Love You More Than You Think
2. Train Hop Flop
3. Leave The Driving To Them
4. Talk About It
5. The Government Is Responsible
6. Expatriate
7. Outbound Sound
8. No Affection
9. Pinky Finger Wedding Band
10. Call Me D
11. Chainsaw Preacher
---
Ghostmeat 5th Anniversary

Featuring the song "Leave The Driving To Them" by David Dondero.

Released in 1999

This is a limited edition compilation CD celebrating the first five years of Athens, GA's Ghostmeat Records.

1. Sunbrain "Pressure Face"
2. Luxury "Flaming Youth Flames On"
3. 6 String Drag "Still Breathin'"
4. Drip "Holden"
5. The Union "Thurman Munson"
6. Woodenhorse "Neverthought"
7. Grumpy "Wait Another Day"
8. Tony Tidwell "Bare Hands"
9. The Fountains "Talks American"
10. Jennifer Goree "Blame it on Hemingway"
11. The Lures "Goner"
12. Pen to Plough "Greener"
13. The Bike is a Pipe Bomb "Mouseteeth"
14. Michael "Hope Comes to Kill"
15. Vaudeville "Mary"
16. Hayride "Lets Hear it for Me"
17. David Dondero "Leave the Driving to Them"
18. Drive-By Truckers "Nine Bullets"

Exclusive live bonus tracks
19. Drip "Downbound Train"
20. Tony Tidwell "Jenifer"
21. Woodenhorse "Factory"
22. Sunbrain "Government Center"
---
David Dondero
Spider West Myshkin And A City Bus

Released in 2000

David Dondero's second album, Spider West Myshkin And A City Bus, is full of rock-minded folk songs with acoustic guitar and amazing songwriting accompanied by banjo, mandolin, dulcimer and beautiful vocal harmonies by New Orleans musicians Mike and Myshkin West.

1. Motion Picture Song
2. Ode To A 1973 Chevy Open Road
3. Rubber Tree Cane
4. Maybe Separation Makes Us Stronger
5. I Had To Get Back East
6. Boulevard Of Broken Hearts Busted Dreams,
Shattered Will, Booze and Pills
7. Pity Party
8. Halfway House
9. Michael Raines
10. Me First At The Expense Of Everybody Else
11. Sensitivity And Lynching
12. Jackson Crosses
13. Where The River Let Out
14. Vestige Gone

GM031
CD
OUT OF PRINT

>> See below for the Spider West... Reissue+2 CD.
---
David Dondero
Spider West Myshkin And A City Bus Reissue+2

Released in 2003

David Dondero's second album, Spider West Myshkin And A City Bus, was originally released in 2000 with black and white copies of Dondero's artwork and homemade packaging. The album was out-of-print shortly after it's release. This reissue includes remastered tracks from the original album, full-color artwork and two previously unreleased bonus songs.

1. Motion Picture Song
2. Ode To A 1973 Chevy Open Road
3. Rubber Tree Cane
4. Maybe Separation Makes Us Stronger
5. I Had To Get Back East
6. Boulevard Of Broken Hearts Busted Dreams,
Shattered Will, Booze and Pills
7. Pity Party
8. Halfway House
9. Michael Raines
10. Me First At The Expense Of Everybody Else
11. Sensitivity And Lynching
12. Jackson Crosses
13. Where The River Let Out
14. Vestige Gone

Bonus songs
15. Pre-invasion Jitters
16. Thank You For
---
David Dondero
A Pre-existing Condition

Released in 2011

A Pre-existing Condition was recorded just outside Athens, GA with Rob Keller (Six String Drag) on upright bass and backing vocals, William Tonks (Bloodkin) on dobro and guitar and Russ Hallauer (Sunbrain) on mandolin and tenor banjo. The album distinguishes itself from other recent Dondero releases with exclusive use of acoustic instruments and extensive use of vocal harmony. Clay Leverett (Now It's Overhead) and Ken Will Morton also make guest appearances with backing vocals and harmonica respectively. The 13-track album features original compositions side by side with Dondero's interpretations of songs by artists such as Little Feat, Elizabeth Cotten, Charlie Pride, Neil Young, Woody Guthrie, Doug Sahm, Jawbreaker, Bob Dylan and Jimmie Rodgers.

1. Willin'
2. Not Everybody Loves Your Doggie Like You Do
3. Freight Train
4. Kiss An Angel Good Mornin'
5. Don't Cry No Tears
6. Please Hand Me Over To The Undertaker
7. Pretty Boy Floyd
8. (Is Anybody Going To) San Antone
9. Boxcar
10. Song For Buck Owens
11. Let Me Die In My Footsteps
12. T For Texas
13. A Pre-existing Condition
---
David Dondero
Not Everybody Loves Your Doggie Like You Do

Released in 2011

Digital-only single featuring "Not Everybody Loves Your Doggie Like You Do" from A Pre-existing Condition and the previously unreleased, non-album track "No Tomorrow In This Song".

1. Not Everybody Loves Your Doggie Like You Do
2. No Tomorrow In This Song