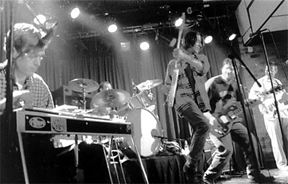 The Drive-By Truckers circa 1999 when Ghostmeat and Soul Dump Records released Pizza Deliverance. From left to right: John Neff (pedal steel), Matt Lane (drums), Mike Cooley (guitar), Patterson Hood (vocals, guitar), Rob Malone (bass)
"Bulldozers And Dirt"
>> MP3 from the album Pizza Deliverance
---
---
Other releases on Ghostmeat
2006- "Heavy And Hangin" by Patterson Hood appears on the AthFest 10 Compilation CD
Drive-By Truckers
The Drive-By Truckers may be more important to modern Southern Rock than any band in the country. In 1998, Ghostmeat helped the Athens, GA band release their debut, Gangstabilly, on Patterson Hood's Soul Dump Records. The following year, the two labels worked together to release Pizza Deliverance. The two albums were later reissued on New West Records. The band (and Patterson Hood) have generously contributed to various AthFest and Ghostmeat compilations through the years.
---
Flagpole Christmas Album

(Flagpole/Ghostmeat)

Released in 1996

This extremely rare CD is one in a series of Christmas albums produced by Athens, GA's Flagpole Magazine.

Since the 1980's, Flagpole has played a crucial role in the development of Athens' world famous music scene. The Christmas albums the magazine produced in the mid-1990's showcased dozens of incredible Athens bands. This CD is the 1996 edition of the Flagpole Christmas album. It was released by Athens, GA's Ghostmeat Records.

This CD features 18 bands. Highlights include rare and exclusive Christmas songs from Trinket (covering The Ramones), Anne Richmond Boston (Swimming Pool Q's), Drive-By Truckers, The Lures (featuring members of Randall Bramblett Band, Sunbrain, Lona), Sunbrain (featuring Future Farmer Records recording artist David Dondero), Drip (featuring members of Saddle Creek Records recording artists Now It's Overhead, Desaparecidos and Bright Eyes) and Jay Nackashi (from Warm Records recording artists Empire State).

The CD contains familiar favorites and original compositions. Many of the originals are absolutely hysterical. This a rare treat for fans of any of these bands.

1. Tony Tidwell & The Scalded Dogs "Rudolph, The Red-Nosed Reindeer"
2. Trinket "Merry Christmas (I Don't Want To Fight Tonight)"
3. Gick "Stupid Christmas Boy"
4. Anne Richmond Boston "This Christmas (Give Me Everything)"
5. Birthday "Sparks Fly"
6. Koncak "Xmas Time"
7. Drive-By Truckers "Hope Santa's Out Of Rehab For Xmas"
8. The Lures "Merry Christmas (Sorry, Anyhow)"
9. The Union "Star Marks The Spot"
10. Captain Snack "A Country Boy In The Army"
11. Sunbrain "Santa Quits The Holiday"
12. Tobin Hines "Lover's Leap"
13. Drip "Holiday Trade"
14. 3 Lost Souls "559 On 12-24"
15. Toenut "Lonely Little Elf"
16. The Drovers Old Time Medicine Show "Santa Claus Is Coming"
17. Matthew Sanborn & Angie Grass "Late Night Afternoon (With Seasonal Bliss)"
18. Jay Nackashi "Nativity"

GM012
CD
OUT OF PRINT
---
AthFest 1998

Released in 1998

In celebration of the second annual Athens Music & Arts Festival. 19 bands from Athens, GA.

1. Jack Logan - "Thorns and the Nails" *
2. The Lures - "Not Coming Down"
3. Trinket - "Modern Age Riot" *
4. Vic Chesnutt - "Scorpion Departs But Never Returns" *
5. Drip - "Rot and Re-Decay"
6. Man or Astroman? - "LO-BAT" *
7. Jackpot City - "Emotional Line"
8. Vaudeville - "Hole"
9. The Fountains - "Talks American"
10. Hayride - "Peace Out"
11. Vigilantes of Love - "To the Roof of the Sky" *
12. Loveapple - "Friction, Baby"
13. Thumb - "Gerund"
14. Kinney, Schools, Lesemann, Sell & Blackmon - "Highway 316 Revisited (Dylan Ripoff)" *
15. Alex Marquez - "Brand New Love"
16. Servotron - "A.R.T.H.U.R. Electric"
17. Jucifer - "Glamourpuss"
18. Drive-By Truckers - "The Living Bubba"
19. Five-Eight - "Whole Lotta Love" *

* previously unreleased song
---
Drive-By Truckers Pizza Deliverance

Released in 1999

The second album from Athens, GA's Drive-By Truckers. Full of whiskey-soaked songs about lovin' and killin'.

Track listing:
1. Bulldozers And Dirt
2. Nine Bullets
3. Uncle Frank
4. Too Much Sex (Too Little Jesus)
5. Box Of Spiders
6. One Of These Days
7. Margo And Harold
8. The Company I Keep
9. The President's Penis Is Missing
10. Tales Facing Up
11. Love Like This
12. Mrs. Dubose
13. Zoloft
14. The Night G.G. Allin Came To Town

GM027
CD
OUT OF PRINT
---
Ghostmeat 5th Anniversary

Released in 1999

This is a limited edition compilation CD celebrating the first five years of Athens, GA's Ghostmeat Records.

The CD features 18 bands from various Ghostmeat releases. Highlights include several songs from out-of-print Ghostmeat titles including "Blame It On Hemingway" from Jennifer Goree's self-titled debut, a rare original recording of "Mouseteeth" from This Bike Is A Pipe Bomb's debut 7" EP, "Leave The Driving To Them" from David Dondero's ...The Pity Party and "The Living Bubba" from the Drive-By Truckers debut album Gangstabilly.

Other highlights include rare tracks from Ghostmeat bands that went on to successful releases with bigger labels including Sunbrain (Grass), Luxury (Tooth & Nail), 6 String Drag featuring Kenny Roby (E Squared), Drip featuring members of Now It's Overhead, Desaparecidos and Bright Eyes (Saddle Creek), The Union (Grass), The Lures (Ten 23), Hayride (Capricorn) and more.

This CD also includes exclusive live bonus tracks that are only available on this CD. Let the CD play after the last listed song for previously unreleased songs by Drip (covering Bruce Springsteen), Tony Tidwell, Woodenhorse and Sunbrain (covering Jonathan Richman).

This CD is a great "I heard them when..." release. It is a must have for fans of any of these great bands.

1. Sunbrain "Pressure Face"
2. Luxury "Flaming Youth Flames On"
3. 6 String Drag "Still Breathin'"
4. Drip "Holden"
5. The Union "Thurman Munson"
6. Woodenhorse "Neverthought"
7. Grumpy "Wait Another Day"
8. Tony Tidwell "Bare Hands"
9. The Fountains "Talks American"
10. Jennifer Goree "Blame it on Hemingway"
11. The Lures "Goner"
12. Pen to Plough "Greener"
13. The Bike is a Pipe Bomb "Mouseteeth"
14. Michael "Hope Comes to Kill"
15. Vaudeville "Mary"
16. Hayride "Lets Hear it for Me"
17. David Dondero "Leave the Driving to Them"
18. Drive-By Truckers "Nine Bullets"

Exclusive live bonus tracks
19. Drip "Downbound Train"
20. Tony Tidwell "Jenifer"
21. Woodenhorse "Factory"
22. Sunbrain "Government Center"
---
AthFest 2002

Released in 2002

In celebration of the sixth annual Athens Music & Arts Festival and to commemorate the fifth annual AthFest CD, the 2002 edition is a 2-CD set with 34 bands from Athens, GA.

Disc One

1. Jucifer - "Amplifier" *
2. Guff - "Responsibility Pays" *
3. Annaray - "Hale-Bopp"
4. Carrie Nations - "Former Babies"
5. Heros Severum - "Colors- Paint & Body" *
6. Five Eight -"Criminal" *
7. Empire State - "Bugs In The System"
8. Megaphone Man - "Hot Thomas" *
9. David Barbe - "Hot, But You Won't Blow"
10. The Fountains - "I Can Be The Man"
11. Don Chambers - "Uncle Raymond"
12. Kevn Kinney & Kitty Snyder - "Love Hurts" *
13. SS Puft - "Blues For Arnold" *
14. Rocket 350 - "She's Gone"
15. Southern Bitch - "Mark Of The Beast" *
16. The Mids - "Get Back"
17. Drive-By Truckers - "Let There Be Rock"

Disc Two

1. Lona - "Radio Wave" *
2. Hayride - "Move Over" *
3. The Modfathers - "Carolina" *
4. Woman - "Jumpin'"
5. Filmstar - "Dreams In Stereo" *
6. Michael - "Finish Line" *
7. Claire & Bain's Maple Yum-Yum - "Malt Liquor"
8. Calliope Fair - "Sirtos Azizes" *
9. Georgia Guitar Quartet - "Linus & Lucy"
10. Riveter - "No Shame" *
11. Shank - "Bourbon Jim"
12. The Normaltown Flyers - "Betting On A Sure Thing" *
13. The Ohms - "Good For You"
14. Barbara Cue - "Mr. Lucky" *
15. Dromedary - "Backwoods To Brooklyn"
16. Stewart & Winfield - "Two Become One" *
17. Dodd Ferrelle & The Tinfoil Stars - "Too Bad You" *

* previously unreleased song
---
AthFest 10

Released in 2006

In celebration of the 10th anniversary of the Athens Music & Arts Festival this year's AthFest CD is a very special 2-CD set. 36 bands from Athens, GA.

Disc One - New Music From Athens, Georgia

1. An Epic At Best - "Weight Of Words"
2. Don Chambers + GOAT - "Pig Luck" *
3. R.E.M. - "Wanderlust (Clayton St. Studio Version)" ^
4. Venice Is Sinking - "Undecided"
5. Lona - "February Rose" *
6. Randall Bramblett - "Rich Someday" *
7. Claire Campbell- "Lo, Mama" *
8. Ken Will Morton & The Wholly Ghosts - "Adelayda"
9. Patterson Hood - "Heavy And Hanging" *
10. The Whigs - "Can't Hear You Coming"
11. Nate Nelson - "A Sing-Song Fashion"
12. Nutria - "Under The Clay" *
13. Modern Skirts - "Indiana Indian" *
14. The Pendletons - "Put That Record On" *
15. Summer Hymns - "What Kind Of Bird" *
16. The Bearfoot Hookers - "I'd Rather Two-Step (Than Twelve-Step)" *
17. Michael Houser - "Can't Change The Past"
18. Ginger Envelope - "Caretaker" *

* previously unreleased song
^ previously released via download only

Disc 2 - Music From Previous AthFest CDs

1. Drive-By Truckers - "The Living Bubba"
2. Five Eight - "I'm Still Around"
3. Jack Logan - "Mama's Door" *
4. Little Red Rocket - "I Believe In What You Do" ^
5. Vic Chesnutt - "What I've Got" *
6. Drip - "Rot And Re-Decay"
7. The Fountains - "Talks American"
8. Hope For Agoldensummer - "Hearts In Jars" ^
9. Vaudeville - "Hat Trick"
10. The Glands - "Livin' Was Easy" ^
11. Japancakes - "Now Wait For Last Year"
12. Jucifer - "Amplifier" ^
13. Elf Power - "Walking With The Beggar Boys"
14. Workhorses Of The Entertainment/Recreational Industry - "The Night Of San Lorenzo" ^
15. Kevn Kinney With Schools, Lesemann, Sell & Blackmon - "Highway 316 Revisited (Dylan Ripoff)" *
16. Ceiling Fan - "Como Te Llamas"
17. Barbara Cue - "Find A Fool"
18. Jet By Day - "O Salvation" ^

* exclusive to AthFest CDs
^ originally released on an AthFest CD